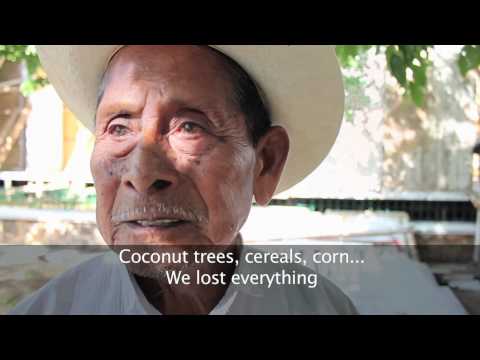 Floods are part of the natural cycle of the seasons, however in "El monumento al Albañil", a town from Veracruz in Mexico, the last floods left them without crops, houses and work and hit them strong for almost two months.
More than 3,000 protesters from the area gathered in Cancun to rise their voice in the Climate Summit of 2010 (COP 16). This group of musicians, the Jareneros Estranzuela, speak up about their culture, language, heritage and history through music…and tell us their story.
The team of OneClimate joined this march through the streets and captured their music and voices. Despite the horrible effects of last season floods in their town caused by climate change, the spirit of the group was what truly moved the reporters. As Gabriel, a member of the One Climate team tells us, "people were shining a powerful inner strength despite losing everything, even their houses, and showed an incredible will to keep moving on. A big example of humanity and acceptance of the true hardships of life for everyone". They joke that "the positivism and the smiles of these people cannot be seen in the London subway".
The OneClimate team focuses on supporting the climate movement, as an essential component of the work of the OneWorld Group. The OneWorld Group's mission is to pioneer internet and mobile phone applications which the world's poorest people can use to improve their life chances, and which help people in richer countries to understand global problems – and do something about them.
Additional links
Visit OneWorldTv for more videos.