Text and video by Stephen Charlton from Melbourne
Seeing live music is not the most trendy night out, nor the easiest way to make a profit for venues. Yet it is a cultural practice that continues despite waves of trends and the relentless assault of draconian licensing laws and venue closures. Why is this? What is it about live music that keeps people coming back? Read on brave traveler and ye shall see.
First and foremost in the appeal of live music is the visceral connection that seeing a live band creates. There is simply nothing like standing in front of a band, seeing your favourite guitarist jam out a blazing solo, physically feeling the boom of the bass drum shake through your chest, and singing along to a chorus with 300 other people alongside you. There's a feeling and connection created with a band performing music they've written to an audience that cannot be re-created by a DJ standing atop a stack of speakers and spinning pre-recorded tunes written by other people.
A big part of live music that makes it special for myself and many others is the community surrounding it. I've met some amazing people by going along to gigs and checking out bands. Whatever you like, be it hardcore, metal, rock or jazz, go out and see bands, and you will meet like-minded people who are just as passionate about music as you. People at small shows are almost always friendly, happy to meet people and give them a bit of time. I have never seen a fight at a local gig in all my years of catching local bands. My hometown, Melbourne, has so many great venues, and each with their own crew and culture built around them. The Arthouse for example has a great vibe, I'll see a band there even if I don't know them, I know I'll still have a good time; the punters, staff and bands are always chill. It's a huge shame that it's closing down this weekend (May 1st), but I'll always remember the shows there.
Seeing musicians give it their all on-stage is a great way to be inspired in your own art and music. Getting out there and hearing different sounds can really open your mind to becoming more creative yourself. There have been times when I had stopped listening to a certain style and only found myself getting excited about it again after seeing a band play live (hello Children Of Bodom's set at The Metro). Sometimes you can make amazing discoveries by watching bands that you haven't heard before, and letting their music speak for them with no prior expectations. Get there early and see the supports, you never know when a hugely talented group of musicians might be opening the night. I've heard many people say that 'there is no good music made anymore', but this is only true if you don't know where to look for it. Obviously the next Jimi Hendrix is not going to be heard on the radio, nestled between Justin Bieber and Lady Gaga. Look hard enough and you'll find him plying his trade in a bar somewhere, and you might be the one to shake his hand and have a few beers before he becomes a superstar. Some of the players in the little bands who played around my hometown have already gone on to score overseas record contracts and international tours.
Another great element of seeing live music is the cost to fun ratio! Prices for local gigs are generally quite reasonable, ranging from $5-20, and if you go to the right venues, the drinks prices aren't too bad either. Obviously if you are seeing Iron Maiden at Rod Laver Arena things are going go get pricey, but local bands and the venues that support them know that there is only a small scene of people associated with live music, and keep prices low accordingly. And while having a few beers is an essential part of the equation for many punters, going out to see bands doesn't require substances to make it interesting, unlike certain other night-time pursuits.
Where to find live music I hear you say?
Well like all things these days, the internet is your first call. Check out the Myspace or Facebook page of your favourite bands and see if they are playing in your city. No matter where you are there is likely to be sites that regularly update with gigs in the area, if you are in Australia check out the following for robust gig guides: www.killyourstereo.com, www.fasterlouder.com.au and www.yourgigs.com.au. Your local streetpress is also a good place to start, pick them up at music stores, bars and cafes. In Melbourne, Beat and Impress always have an amazing selection of gigs featured each week, and if you are a musician they are easy ways to advertise your own shows.
And finally, just get out there. I've rarely regretted heading out to a gig, but I've definitely lamented some of the great shows I missed!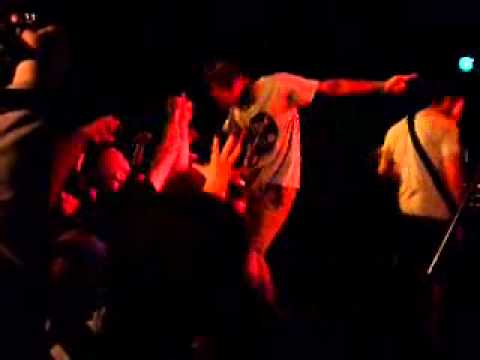 Don't forget to check out the bands in the video, in order of appearance they are:
@ The East Brunswick Club
- Defeater (US) – www.myspace.com/defeater
- Miles Away (AUS) – www.myspace.com/milesawayhc
@ The Arthouse
- Hypno5e (FRA) – www.myspace.com/hypno5e
- The Amenta (AUS) – www.myspace.com/theamenta