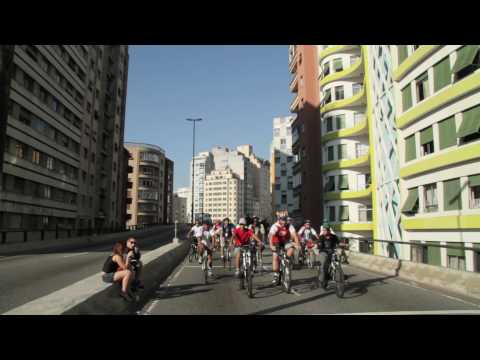 Minhocão is a fun name. The English translation would be "big earthworm", and is also the name of a big avenue at downtown São Paulo in use since 1970. It is surrounded by buildings, homeless sleeping under the viaduct, drug addicts and trees.
On working days it's just another avenue filled with cars and the famous traffic jam of São Paulo. On Sundays, the city government decided to close the avenue for cars, and people can enjoy the space: have a walk, ride their bicycles, take their children out and have fun. It's a little breath out of the madness that São Paulo is during the whole week, and gives also some relieve to the people who have their windows right there, facing the avenue, with the noise and pollution from cars.
This video was shot in a Sunday, while we were having fun and forgetting about how Minhocão looks in a working day.
A bit of history…
Minhocão was originally designed to relieve traffic in the Avenue General Olimpio da Silveira and Street Amaral Gurgel, which, by cutting the central regions of the city, could not be expanded to increase its capacity. Thus, the solution was to build a parallel on the common grounds, where the traffic capacity was doubled. Has 3.4 km length and connects the central region to the west of the city. It received mixed reviews, being called "cruel landscape architecture" and "an architectural aberration". It is still not well regarded by the population of the region due to the devaluation of their property and the deterioration of the site. In the year 1976 the freeway became forbidden at night, a measure to prevent accidents and in reducing the noise in the region.
Future plans
On May 6, 2010, the mayor of São Paulo, Gilberto Kassab, released a project aiming its demolition. According to Folha Online, market participants estimate that if this occurs it will not be before 2025.
Similar cases
In Bogotá, Colombia, since 1975, on Sundays more than 120km of avenues are for pedestrian and bike use only (so-called ciclovías). People use the space for many activities, as yoga lessons, art and music events.
Elevated green spaces are somehow an alternative to the demolition of abandoned or extinguished railroads. In June 2009, the High Line, a public park in New York, built on a defunct railway that runs 30 feet above Manhattan, was open.
NYC is a great example of urban renewal, that followed prior examples as Paris, with its Promenade Plantée (opened in 2000), or Mumbai, with elevated walkways linking green spaces. Other cities will create similar green spaces: Toronto, Shenzhen in China, or London, converting a viaduct near the former Bishopsgate Goodsyard into an elevated park.
Related videos
- Minhocão viaduct in a working day.
- Report on traffic caos in São Paulo by Al-Jazeera.
About
Video shooting and editing by Livia Perini. You can see more videos on Vimeo.